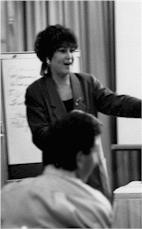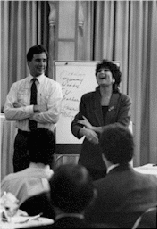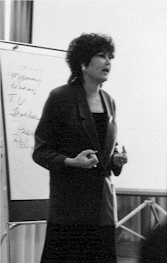 Presentation Skills · Communication Skills
 Coach · Trainer · Consultant     
For over 30 years Nancy Stern has inspired leaders, managers, employees and individuals of all ages through the simple, yet powerful, lesson that how you say what you say, matters™.  She custom designs educational training and coaching programs to help you improve your communication skills, polish your presentation skills and become a better public speaker.  Personal experiences form the foundation of her coaching and training programs. The outcomes are powerful, professional and practical. Nancy's interactive Communication Plus Programs release your potential by helping you improve yourself from the inside out. Mindfulness plays an important role in bieng an effective communicator and she'll show you how you can capitalize on this very important tool so you can improve both presentation skills and communication skills. Her clients include numerous corporations, associations and government agencies. She has also consulted with several Fortune 500 companies.
Nancy is an Emmy award-winner, who produced and appeared in the national PBS television series Communicating With Nancy Stern. She has been a columnist with the San Diego Daily Transcript and is the co-author of 101 Stupid Things Trainers Do To Sabotage Success which has been translated into nine languages. She holds a Master of Arts degree in Communication Education from Michigan State University and did some post graduate work at the University of Michigan. Nancy has taught at the University of California San Diego, National University and San Diego State University. She studied improvisation with the renowned comedy troupe Second City and has integrated improvisational activities throughout her communication skills and presentation skills training and coaching programs. She believes spontaneity and one's ability to speak in the moment are critical  for successful presentations whether to the media or in front of an audience of peers.
Additionally, Stern conducts media training. In 2002, Nancy and veteran news reporter Jody Hammond created  On The Spot Media Training & Coaching.  They help people confidently present themselves to the media while developing strategies for successful print, radio, Internet and TV interviews.
She'll inspire your audience through the simple yet powerful lesson:
How you say what you say matters.™