Proven Programs Include
These dynamic workshops are uniquely designed as modules that can stand alone or be combined, depending on your needs. Programs can be customized for people at all levels of your organization.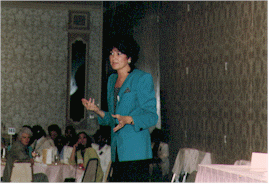 When it comes to creativity and presenting to groups, taking risks is essential. Along with risk-taking, the right mindset is a must! And to round it all out, people need to be able to communicate effectively in the hallway, the cafeteria or whenever/wherever ideas strike. Improv at Work™ is a means to that end. It helps free up the mind and allows people to become comfortable with the unexpected, where great ideas often emerge. In this workshop people will experience seriously fun ways to improve flexibility, enhance creativity, and present with ease. Improv helps you think on your feet, be innovative, listen carefully, and get the most out of every moment. It's great for promoting teamwork, reducing stress, developing resiliency, and creating dynamic leaders (Tom Peter's said, "Leadership is an Improvisational Art"). Participation in this highly interactive workshop challenges your spontaneity, imagination and intuition. After exploring some of the basics of creative thinking including developing the right mindset, identifying and eliminating self-sabotaging roadblocks, and learning how to be fully engaged, you'll play numerous improv games and participate in exercises designed to free your inhibitions and enhance your creativity. Please come prepared to laugh while you learn.
How You Say What You Say Matters™
George Bernard Shaw once said, "The greatest illusion about communication is that it has taken place." Make sure that it does. In this highly interactive program, you'll gain insight into the fundamentals of conscious communication by discovering Stern's four steps to enhanced listening and understanding; you'll develop strategies to prevent communication breakdown and to resolve conflict painlessly. You'll gain a deeper awareness of non-verbal language while learning to be better understood, and to better understand yourself and others.
The Art of Powerful Presentations™
Research has indicated public speaking is the number one fear of human beings. It needn't be. Borrowing wisdom from ancient Zen principles helps. After this entertaining and insightful presentation, you'll overcome stage fright, increase your voice power, and learn to speak with confidence while developing your own dynamic style. You'll get tips on how to involve your audience, create powerful visual aids and use props effectively. Included is a funny, yet factual overview of stupid things presenters do to sabotage success adapted from Nancy's book 101 Stupid Things Trainers Do To Sabotage Success. And, a class like this wouldn't be complete without a discussion and demonstration of how to use PowerPoint® effectively.
Training Program Objectives and Outlines
Facilitate to Motivate and Manage Conflict™
Whether you are conducting a meeting, participating in a team project, or leading people through a crisis, your ability to get your message across effectively is critical to your success. Tomorrow's leaders must be skilled communicators. This highly interactive seminar (one-three days) addresses the critical skills needed to manage and resolve conflict, to motivate others and to facilitate meetings, team decisions, etc. Participants will be asked to practice skill sets throughout the seminar using real life situations. Wisdom from the martial arts will be considered as we explore the many ways conflict can be reduced.
Training Program Objectives and Outlines
Gender Jive: Funny Things Happen When Men and Women Talk™
While talking to a member of the opposite sex, how many times have you either said or heard, "You just don't understand?" Because men and women tend to communicate differently, misunderstandings may arise causing resentment and repercussions. This entertaining and interactive program shows you how to avoid the pitfalls of male-female communication. You'll develop a deeper awareness of how to capitalize on our differences by exploring techniques that can enhance communication both at work and at home. The result is decreased stress and increased peace of mind. At work that means greater productivity/profitability and at home it means happiness and harmony.
Training Program Objectives and Outlines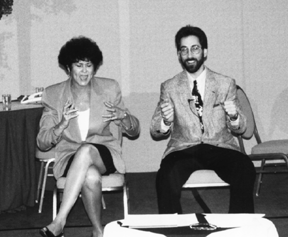 Shift Happens…How Change Ready Are You?™
Change is something you can count on. It strikes out of the blue, occurs as you move through the stages of life, or presents itself as you alter the way you do business. Your ability to embrace change is critical to your success and yet it is often feared, resisted, and sometimes even ignored. This highly interactive program helps you develop positive attitudes about change while helping you increase your ability to be flexible. You'll discover how to develop change-based philosophies and leadership strategies. In doing so, you'll help yourself and others successfully maneuver these rapidly changing times. And—you'll laugh while you learn!
Training Program Objectives and Outlines
Customer service is critical if organizations are to remain competitive in today's business environment. This engaging program, filled with real-life stories and practical applications, helps you develop strategies to focus on the customer by realizing service is an attitude; it comes from within. Learn how to sell more with superior service, how to retain and maintain your current customers, and how to connect with them using social media. Nancy shows you how to identify "moments of truth" and how to create "magic moments" for your customers. You'll even learn how to defuse hostility and deal with difficult people. All with less stress!
Training Program Objectives and Outlines
This activity-enriched program teaches the basics of effective leadership, focusing on EQ (Emotional Intelligence), personal awareness and growth, interpersonal relationships, innovative thinking, and the role improvisation plays in effective leadership. The workshop creates a foundation for understanding the challenges facing a new leader, supervisor or manager and helps the individual improve leadership skills and behaviors at various stages in his or her career.  Because whole people are better for the whole organization, leadership from the inside out will be stressed. This workshop is great for supervisors, managers or anyone who wants to become a better leader.
Training Program Objectives and Outlines
Do you go to too many meetings? Are many of them meaningless? Are they inadequately prepared? Are agendas non-existent and desired outcomes vague? Do you wonder why people don't stay focused and tend to waste valuable time? If you answered YES to any of these questions, this program is for you. Get ready to participate in a highly interactive workshop that addresses the critical skills needed to communicate and facilitate during meaningful meetings.
Training Program Objectives and Outlines
Team Talk™   A Practical Approach to Team Building.
Teams that talk together work together better. This interactive, entertaining program helps you understand the stages of team development so you can capitalize on individual differences. Attendees will learn how to establish and implement a team charter, explore roles and responsibilities of all team members, learn how to resolve conflicts collaboratively, and discover how to overcome barriers to team performance.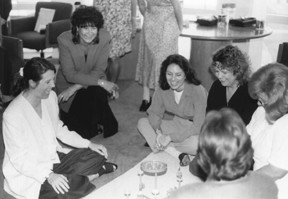 Life doesn't come with a rule book, so when the script hits the fan…improvise. Experience seriously fun ways to improve your flexibility, embrace change, and breeze through problems. Improv helps you think on your feet, be creative and innovative, listen carefully, become a captivating speaker or presenter, and get the most out of every moment. It's great for promoting teamwork, reducing stress, developing resiliency, and creating dynamic leaders. Participation in this program will challenge your spontaneity, imagination and intuition.
Email tends to take away the warmth and nuance you'd have communicating face-to-face often leaving your intended meaning to get lost in translation. This kind of communication breakdown can be costly both in time and money. In this program you'll be presented with tips and tools to ensure your email style makes you look as smart as possible while showing you how NOT to annoy those on the receiving end of your messages.
Training Program Objectives and Outlines