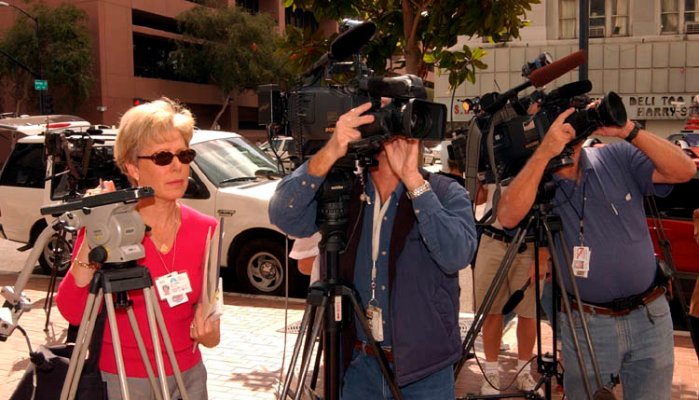 You never know when 60 Minutes will knock on your door and if not them, then maybe a local investigative reporter. A little media savvy is a valuable skill for executives and their image-conscious organizations. Unless you've had media training you know most business people would rather face a firing squad than a crew from the 5:00 news. Although most reporters have professional integrity, some can be crafty.
I remember the story about a local fire chief responding to a reporter's questions. When the story aired, he heard the original question he was asked about one topic. What followed was his answer to another question. The result was disastrous. To avoid the possibility of something like this happening to you, be sure to repeat the question in the form of a statement so there is no way it can be taken out of context. Also be sure to answer in complete sentences. Simple yes or no responses are easily edited.
For example, the question might be, "What are your plans for staffing next year?" A tight response might be, "Our plans for staffing next year include creating three new positions in marketing and sales." Remember, edits happen very quickly especially since most video is digitally shot. So, don't take long pauses unless you have completely finished answering the question.
To help you overcome stage fright once the camera is rolling, take a few slow deep breaths before you allow the first question to be asked. If a microphone is pushed in your face in a spontaneous situation, take a second or two to compose yourself and be sure to think before you speak. Take control of the situation. Remember, a significant amount of your communication in non-verbal so pay close attention to the signals you may be sending through your body language, facial expressions and vocal cues.
Saying "no comment" may say more than you may mean. It is often interpreted as a defensive response showing you have something to hide. An alternative would be,"We'll make a statement just as soon as we have all the facts." This allows you to buy some time and prepare what you want to say.
When you know in advance that you will be conducting a press conference, be sure to prepare. List the key points you wish to make and be sure the media has been adequately informed as to the purpose of the event. If there are items you don't want to discuss due to confidentiality, personnel or legal reasons, stipulate up front that these items are off-limits. If the reporter persists, respond in a pleasant tone of voice that you remain firm in your decision not to discuss those issues at this time.
When responding to the "loaded question," it is best not to rephrase and repeat what you heard. Loaded questions are often confrontational and filled with negative language. The worst thing you can do is get defensive or hostile in your voice or body. In your own words, relate to the issue and be concise. You may want to begin with something like, "I wouldn't describe the staffing situation like that." A statement like this to begin with will also allow you to buy a little time think through your response.
If a question is put to you that you do not have an answer for, simply say, "I don't know. I'll get back to you on that." Then find out and follow-up. The worst thing you can do is try to talk around it. Your non-verbal signals will show the audience that you are unsure and insecure.
The bottom-line: Prepare yourself with media training before reporters come knocking on your door. In any situation always remember to respond rather than react. Don't let your defenses get the best of you. Remain calm and take some slow deep breaths so you can think before you speak. How you say what you say really does matter.
visit us at www.onthespotmediatraining.com for more helpful tips.